About the Shire of Darach
Darach Shire is a part of the Kingdom of Caid, one of the major "kingdoms" of the SCA. The shire hosts up to an average of 10-15 or more meetings, workshops (such as cooking, herbal, textiles, or woodworking), and practices a month, and between 3-5 major events a year.
Shire Meetings
Shire Meetingsare held once a month, during which we discuss shire assets, upcoming events, newcommer help, guild activities, arts and sciences, children's activities, and Kingdom participation. Attending a shire meeting is a good place to start getting involved at the local level.
The next meetings are currently scheduled for:
Date of Next Meeting: March 01, 2017
Directions
Link to February's Agenda
Previous Meeting Minutes

Fighter Practices
Fighter practice encompasses both Heavy Weapons and Rapier Fence. Heavy Weapons is an unchoreographed martial art, recreating swordplay of the middle ages, using rattan swords, shields, and a variety of other secondary weapons. Rapier Fence is medieval Fencing in the round, using foil, epee, musketeer, or schlager (no saber). Please contact the heavy weapons or rapier fence host to confirm practices. Be sure to check in with hosts when it's been rainy, because sometimes there are alternate indoor fighter practice locations available on occasion.
Heavy Weapons
Time –
Location – Rancho Conejo Playfields, Thousand Oaks California
Heavy Weapons is an unchoreographed martial art, recreating swordplay of the middle ages, using rattan swords, shields, and a variety of other secondary weapons. Heavy Weapons practices are held on the same day/time as the Rapier practices. Please contact the heavy weapons host to confirm practices. You must be at least 18 years old to participate in Heavy Weapons.
Helpful reading: The Armored Combat handbook of Caid.
Loaner equipment is not always available, however you should be able to work with a sword on solo training (no partner) and you will be taught the safety rules of SCA Heavy Weapons. Check with the host of the practice if you are unsure.
Rapier
Time – Almost every Sunday afternoon, from noon until about 4 pm
Location – Via Marina Park, Oxnard California
Rapier Fence is medieval Fencing in the round, using foil, epee, musketeer, or schlager (no saber). Currently rapier practices are almost every Sunday, at Via Marina Park in Oxnard. When the weather turns sour, there are sometimes indoor fencing practices. Please contact the fencing host to confirm practices. You must be at least 14 years old to participate in Rapier Fencing.
Helpful reading: The Rapier Combat handbook of Caid
There are some shade trees at the park, and it's fine to set out blankets, chairs, tables, whatever your heart desires to make your time in the park more enjoyable. Fighters and their families sometimes bring small children with them to practice, and there is a small playground on site. You should bring your own water and/or snacks, although sometimes people bring extra water and cups to share. Observers (non-fighters) are always welcome, but will be asked to keep a safe distance from the fighting. There is some loaner equipment and armor available, if you're just getting started. You will, of course, need to provide your own groin protection. You will also be taught the safety rules of SCA Rapier Fencing so that you can later be authorized in Rapier.
Authorization
"Authorization" is required for all martial arts activities in the SCA. Authorization does not certify that you have achieved any specific skill in Rapier or Heavy Weapons, but shows that you have demonstrated knowledge of SCA martial arts rules of combat, safety regulations, and armor requirements. You must be authorized in order to participate in SCA tournaments.
Waivers
If you are an authorized fighter, please bring your authorization card. If you are not authorized, you'll be asked to complete a waiver on site, or you could bring a completed waiver with you to the practice.
Groups
Brewers Guild
The Brewers Guild is interested in all aspects of brewing from the mundane to the medical. Both alcoholic and non-alcoholic recipes are researched. However, NO underage drinking is tolerated. We want to represent the best in our craft, and invite you to join us at our regularly scheduled meetings; usually once a month.
Cooking Guild
The Cooking Guild studies period recipes and cooking techniques. If you would like to learn more about period cooking, please contact the Guild about scheduling new workshops.
Herbal Guild
In the Herbal Guild of Darach we research both period and modern herb uses, growing tips and recipes for use in the "curren middle ages." Meetings vary in time and dates, so please check the Calendar and join us!
Textiles Guild
The Textiles Guild is another way of saying "Sewing" or "Costuming Workshops." Textiles is open to anyone, regardless of whether you are at a beginning, intermediate, or advanced sewing level.
Scribal Guild
Project Night is a monthly get-together for anyone interested in Arts & Sciences, with emphasis on Scriptorium (calligraphy & illumination) 
Woodworking Guild
The Woodworking Guild is dedicated to historical research and practical application of medieval woodcraft. Our goal is to learn the art of woodworking, period techniques and tools, modern tool use and safety.
Regnum
Notice – There will be two offices opening up towards the end of this year
The position of the Exchequer and
The position of the Chronicler.
If either money or writing interests you and you would like to get more involved with Darach Shire stuff, now might be the perfect time find out more about it. Send a message to the seneschal if you are interested either of those positions or maybe just becoming a deputy. If you just CAN'T wait.. you can pop by the shire meeting at the Oxnard public library.
These are the people you can contact about events and activities in the Shire of Darach.
Each contact person is listed by his or her Society name.
SENESCHAL
Kelvin of Tynedale
The office of the Seneschal is a facilitator of policy and procedure from the local to corporate level. Within the Shire, the Seneschal has responsibility for and authority in legal matters. They are ultimately the one responsible for real-world legal, financial, and operational matters: sites, contracts, waiver, policy, and making sure the SCA governing documents are followed. They may delegate some of this authority to Deputy Seneschals and Event Stewards as appropriate and in accordance with Shire culture.
MINISTER OF ARTS & SCIENCES
Albra Katerine Marie Isabel Bautiste
The Minister of Arts and Sciences is responsible for fostering the study of period culture and technology, and methods for producing historically accurate artifacts and performances. His/her duties include coordinating the efforts of kingdom Arts and Sciences officers, and promoting the dissemination of accurate information about the fields under study. The office also assists the Chronicler of the Society and the editors of Society publications in confirming the validity of research presented to the membership.
CHATELAINE
Baldwin Woodbush
The Chatelaine is in charge of Newcomers' Relations. Each SCA kingdom has an officer in this position, known as the Chatelain(e) or Hospitaller that will assist new members who wish to get involved and attend events. SCA events require that those attending make some attempt at pre-17th Century dress. This can be difficult at first, not having any period clothes. Gold Key is the answer.To borrow garb, feastware, or new member resources from the shire's Gold Key, contact the Chatelaine to make arrangements.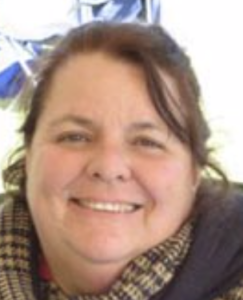 CHRONICLER
Ismay of Giggleswick
The Chronicler's duties are to publish the shire newsletter, The Oak Leaf, and oversee non-electronic publishing in Darach.

CONSTABLE
Rathormer Scyldwulf
The Constable is in charge of keeping the peace and maintenance of lost and found.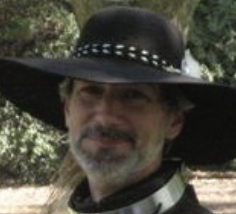 EXCHEQUER
Alexander Kallidokos
The Shire Chancellor of the Exchequer reports to the Seneschal, and is in charge of all financial activities and accounts the Shire holds. This office compiles financial information reported by all local events of the Society for Creative Anachronism, Inc., to be used in the SCA's tax returns and other financial reports.
HERALD
Richard James MacCausland
Heralds in the Society for Creative Anachronism have many jobs. Administrative responsibilities, ceremonial roles, and as source of technical expertise. The Herald is your first stop when submitting a name and personal device.

LYSTS
Thomasina MacGregor of Tay
The List Table is the location where competitors sign in and where the Minister of Lists keeps track of the paperwork necessary to actually run the tournament.

MARSHAL
Wilhelm von Frankfurt
The Marshal of Darach Shire is responsible for the local martial activities in the SCA, including armored combat in tournaments and wars, rapier combat, siege weapons, combat archery, target archery, and equestrian activities.

WEBWRIGHT
Éadaoin inghean uí Cruadhlaoich
The webminister updates the shire website, and oversees electronic publishing in Darach.